AEB ENZYMES FOR CITRUS FRUIT JUICE PRODUCTION
QUALITY AND RESPECT FOR THE ENVIRONMENT ARE AT THE HEART OF OUR COMMITMENT TO GET THE BEST OUT OF CITRUS FRUITS
Citrus fruits, in addition to being a raw material par excellence in our region, are a key market in the production of juices and essential oils as well as a wide range of products created from primary processing 'waste', and have become a resource of considerable economic significance in the production chain.
ALL-ROUND SUSTAINABILITY – NEW AEB BIOTECHNOLOGY FOR THE CITRUS SECTOR
Today, citrus growers can count on our support, both in the production of premium products and in the processing of the resulting by-products. The targeted application of biotechnology and, especially, enzyme-based formulations, allows citrus growers to increase efficiency in the production process, minimise waste, increase extraction yields, and generally reduce energy consumption. This, of course, results in a significant positive economic impact.
Indeed, biotechnology allows to provide differing enzyme activities, which are particularly suited to the citrus sector and are essential in carrying out processes more efficiently, minimising waste, increasing extraction yields, and reducing energy consumption.
The use of enzyme products is, therefore, a sustainable choice for producers, both in terms of the environment and in the savings involved.
This is the reason for our drive and commitment to provide companies in the citrus sector with a varied range of enzyme products,specific to the different stages in processing:
Endozym OSI, enzyme formulation designed to optimise extraction of essential citrus oils;
Endozym Pectofruit XM, preparation composed of a number of enzyme activities, ideal for use in multiple stages of the production process;
Endozym Cloudy PR, specifically for processing "Cloudy" juices.
ENDOZYM OSI, FOR IMPROVED EXTRACTION OF ESSENTIAL OILS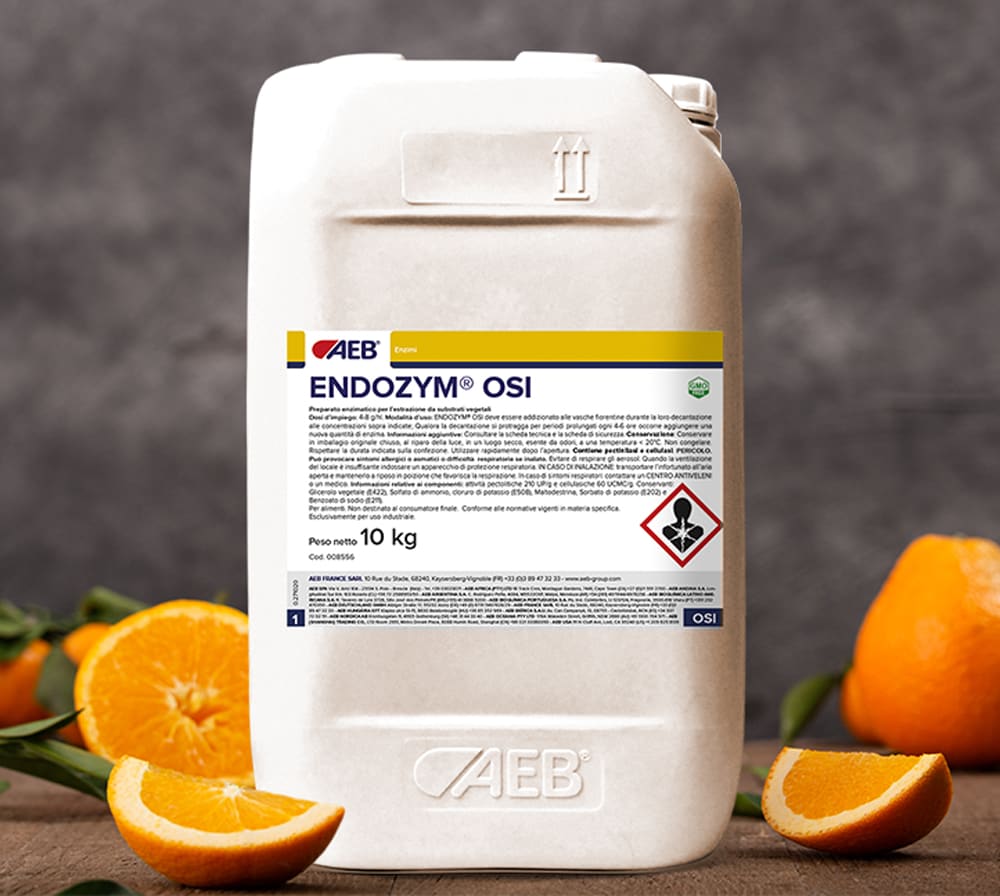 Endozym OSI is a product designed for the extraction process of essential citrus oils. These oils, along with fresh juices, are one of the two main by-products in orange processing and often the most profitable and valuable product in all citrus processing, in high demand on the market and used in a variety of sectors as a natural flavouring.
In citrus fruits, essential oils are encapsulated in structures called oil vesicles, which are found in the coloured parts of peels. From here, they are extracted by cold pressing, creating an emulsion with the extraction water from which they are to be separated by centrifugation. The use of Endozym OSI, in the pressing as well as in the centrifugation stages, helps to increase extraction yields from citrus peels and allows improved separation of water and oil during centrifugation.
THE VERSATILITY OF ENDOZYM PECTOFRUIT XM: FROM ULTRAFILTRATION TO CLARIFICATION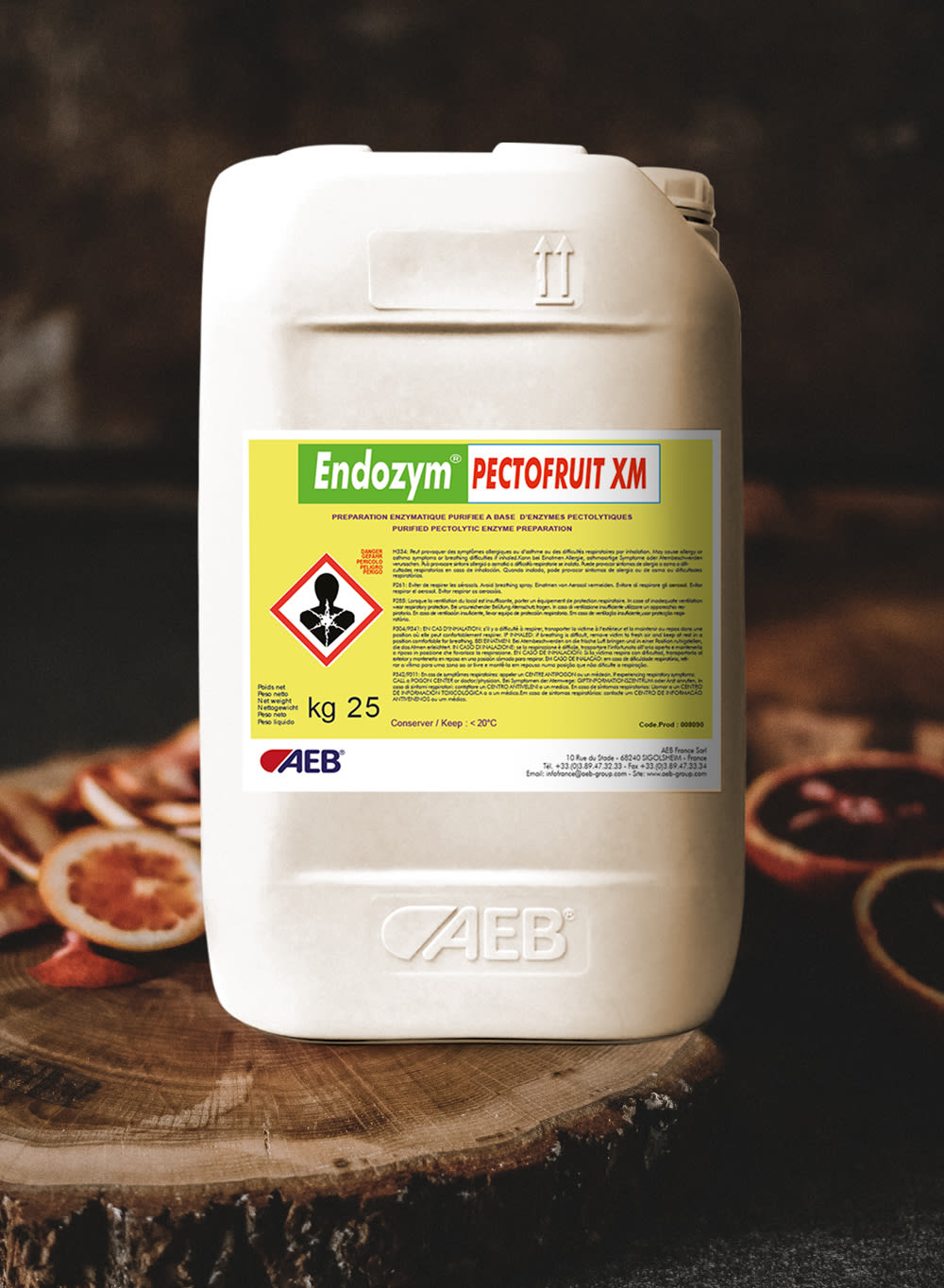 Endozym Pectofruit XM is a formulation consisting of a number of enzyme activities involved in the destructuring of complex polysaccharides, which thus facilitates many aspects in the production stages of a variety citrus products.
This is a very versatile compound and its carefully targeted activities allow it to be used in different stages of the production process, depending on requirements – it is effective in increasing ultrafiltration performance and in reducing the use clarification adjuvants during traditional filtration. It can, moreover, help to significantly improve colloidal stability over time of first-press juices and concentrates.
CLOUDY JUICE PRODUCTION WITH ENDOZYM CLOUDY PR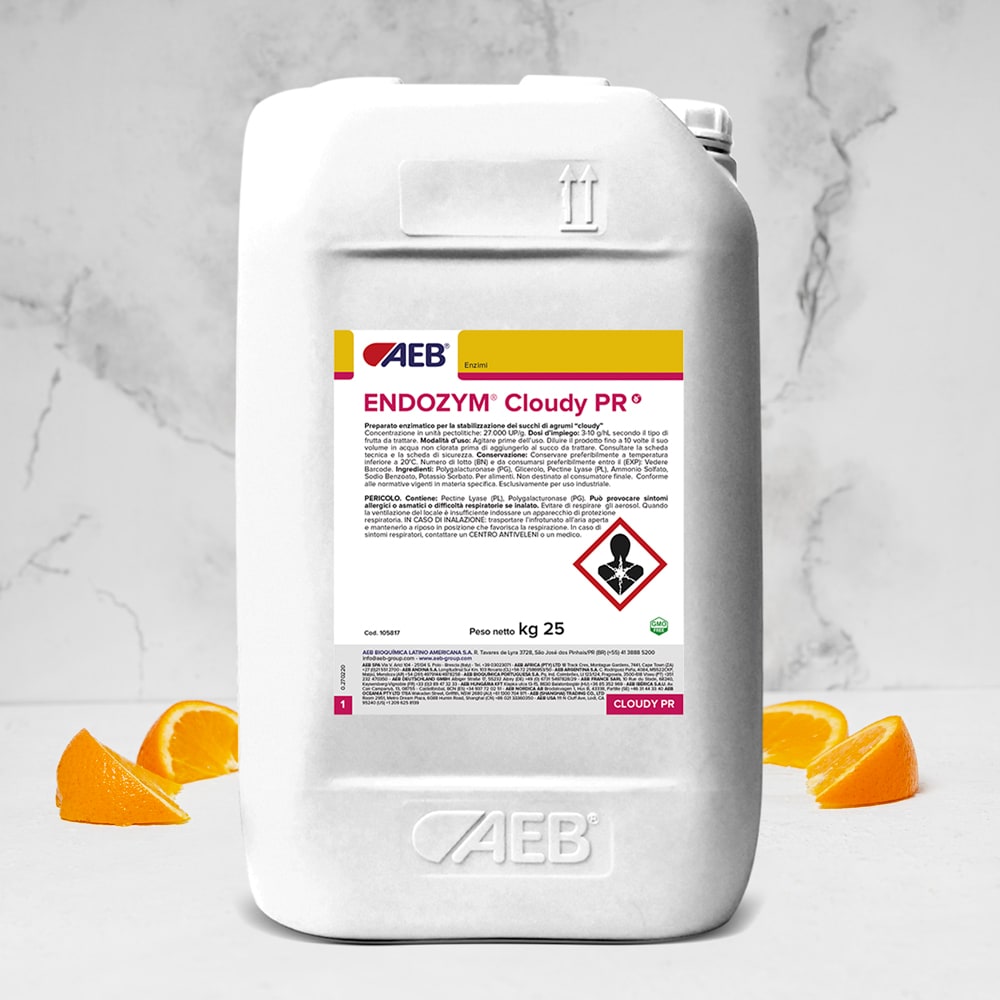 Cloudy is a thick juice, deriving from the processing of first-press waste, and is considered the 'King of recycled products'. With Endozym Cloudy PR, cloudy juices are rendered more stable and less viscous, which thus prevents potential sedimentation phenomena. The lower juice viscosity allows the particles in the pulp to remain in suspension, with no bottom accumulation, which makes the juice more visually appealing to the consumer. Cloudy juice is, therefore, a product with high added value for the companies that produce it.
Endozym Cloudy PR minimises waste by being instrumental in a type of juice processing that is very popular in the market.