CHITO-F: THE FIRST ENHANCED CHITOSAN ON THE MARKET


CHITO-F HAS A STRONG ANTIMICROBIAL, BACTERIOCIDAL AND BACTERIOSTATIC ACTION, STABILISES AND PROMOTES WINE CLARIFICATION.
At the origin of CHITO-F is the growing orientation towards natural, sulphur-free products for vinification and a market increasingly interested in drinks with reduced sulphite content.
CHITO-F: A BALANCED BLEND OF CHITOSAN AND FUMARIC ACID
From the latest studies of our R&D department comes a new specific treatment based on fumaric acid and chitosan.
Chitosan is a natural derivative of biological origin that is obtained by partial deacetylation in an alkaline environment of chitin, a polysaccharide composed of n-acetyl-d glucosamine units. The chitosan permitted for use in oenology must in fact be of fungal origin, from fermentation of Aspergillus niger.
Fumaric acid is an acid naturally occurring in fruit and vegetables, and has been isolated in the roots of the wild herbaceous plant Fumaria officinalis (Fumariaceae) from which it derives its name. Fumarate, the anionic form, is an intermediate in the citric acid cycle and is formed by oxidation by succinate dehydrogenase of succinate. The fumarate is then converted by fumarase to malate.
Fumaric acid is used today in many food products.
HOW TO REDUCE SULPHUR DIOXIDE WITH CHITO-F
BENEFITS OF CHITO-F

Microbiological
stability

Sulphite
reduction

Allergen-free
alternative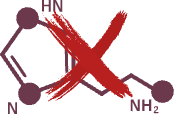 Reduction of
biogenic amines

Freshness
and cleanliness