GET EVERYWHERE
with
ABW

et
ABW
et

, THE NEW AEB ADDITIVE TO ENHANCE THE BIOCIDAL ACTION OF PEROXIDE SOLUTIONS
The biocidal action of peroxide-based solutions, in particular the ones based on peracetic acid, has been known for some decades. Numerous advantages are offered by these active ingredients, such as effectiveness at low temperatures, reduced concentration of active agent necessary and minimum operating cost. These benefits have made peroxide solutions the best disinfection solution in various applications.
RINSING TREATMENTS OF PLASTIC CONTAINERS
One of the applications in which peroxide solutions are now considered irreplaceable is the rinsing treatment of plastic bottles and containers before they are filled.
This operation, performed in special rinsing machines, is carried out at low concentrations of peroxides also to ensure the elimination of all residues of the active agent during the final rinse that takes place in the same equipment.
In fact, peroxides, in particular peracetic acid, are hydrophobic by nature and therefore tend not to penetrate the microscopic anfractuosity of plastic materials. Any microorganism residing in these crevices may therefore not come into contact with the active principle and remain present in a vegetative or quiescent form when the containers are filled.
ABWet GUARANTEES DISINFECTION THAT HAS NO EQUAL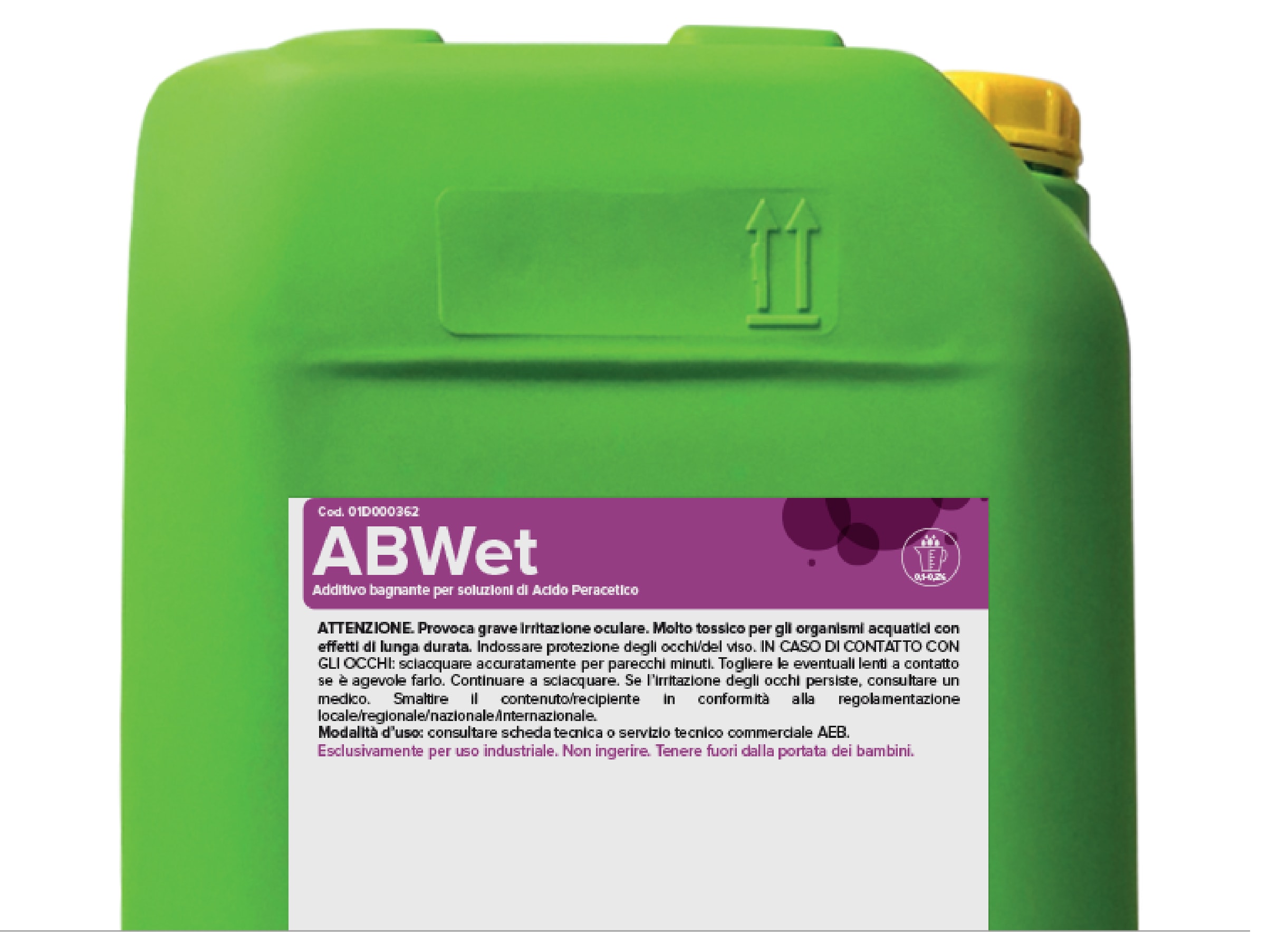 ABWet is the new concentrated liquid additive, formulated by the pool of AEB experts and technicians, based on wetting surfactants designed to lower the surface tension of peroxide solutions, allowing the latter to penetrate any anfractuosity or micro-pore of plastic materials and therefore to enter in contact with all the microorganisms present and exert on these the biocidal action of the active ingredients.
This mechanism allows to operate at a low concentration of active ingredient, resulting in a further lowering of operating costs and at the same time ensuring the effectiveness of the rinsing phase.
ABWet can also be used in biocidal solutions used in CIP (Clean-in-place) plants. In fact, these solutions often have limits in the decontamination of gaskets or other structures in plastic polymers for the same reasons highlighted in the case of bottles. The addition of a minimum percentage of ABWet eliminates this limit allowing the peroxide solutions to carry out a complete decontamination.