HOW TO REMOVE THE REDUCTIVE WINE FAULT
The fault, linked to the olfactory descriptors of sulphur and rotten eggs in wine, has its origins in the formation of hydrogen sulphide (H2S). Our R&D department has created Desulfin C, a new copper citrate-based stabiliser, which solves the reductive wine fault.
THE FORMATION OF SULPHUR COMPOUNDS IN WINE
Hydrogen sulphide (H2S) is formed both during fermentation as a result of the action of yeasts on sulphur-containing compounds and also due to the absence of oxygen during the aging process.
During alcohol fermentation, H2S is used to synthesize sulfur amino acids (cysteine and methionine) but, it is released into the medium if it is produced in excess.
In musts, when conditions lack of free assimilable nitrogen, yeasts degrade enzymatically proteins (cysteine-desulfurases) leading to the formation of H2S.
During wine maturation, instead, the formation of this compound is related to the polyphenol profile and the presence of lees.
NEUTRALIZE THE REDUCTIVE WINE FAULT USING DESULFIN C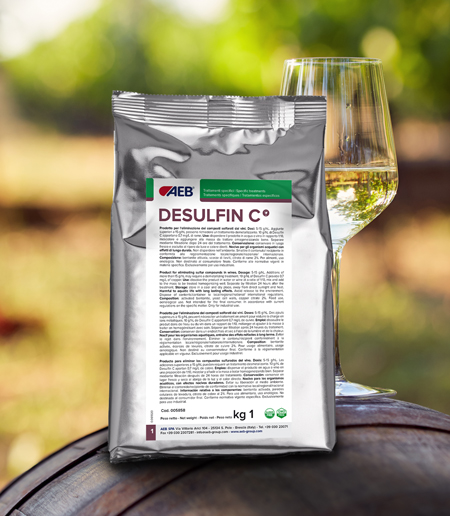 To eliminate this aromatic fault, is fundamental to intervene in very short time with the addition of a cupric solution, such as the new Desulfin C, which is formulated using 2% copper citrate. The combined action of the copper citrate and the adsorbing yeast cell walls allows effective removal of the reductive notes.
Moreover, peer-reviewed research* shows that traces of copper ions in red and white wines at a concentration of a few tenths of mg/L, plays a useful role in the development of their aroma bouquets in the bottle.
The indicated dosage, specific for the composition of Desulfin C, reduces the risk of exceeding the legal limit of 1 mg/L of copper.
Do you want to be always informed of all the news, initiatives and events of the Group? Subscribe now to our newsletter!