NICOLA BALDASSARI IS THE NEW MANAGING DIRECTOR OF INNOTEC TECNOLOGIE INNOVATIVE
31/01/2020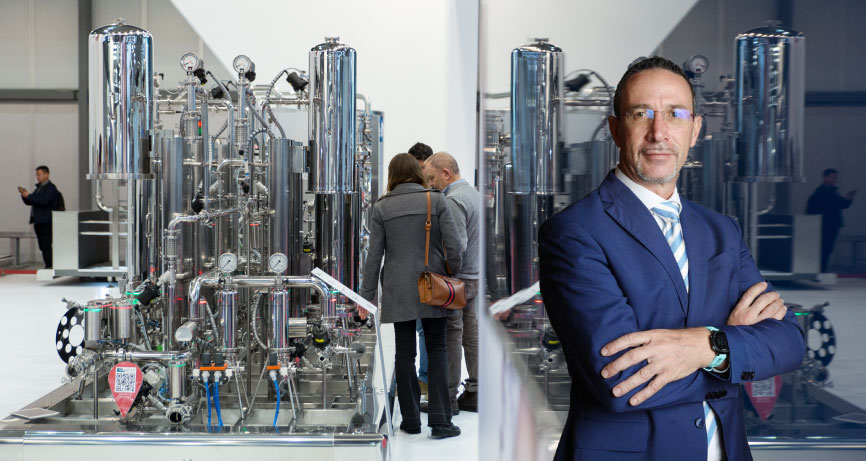 For the Verona-based company Innotec a new commercial era opens up. AEB Group, a global leader in biotechnology and equipment in the field of oenological production processes and Food & Beverage, acquired the company in 2017. "Thanks to Nicola's know-how and his experience as Technical Director of GIV (Gruppo Italiano Vini), one of the most important Italian wine groups, we will be able to further strengthen Innotec offer and our leadership as a partner of wineries and all food companies" - declares satisfied Mario Tomasoni, CEO of AEB Group.
"Many years of experience in the company GIV, – says Baldassari, - will allow me, together with the entire Innotec team, to set up a new, more integrated concept of customer relations. After all, for more than 20 years, I was one of them".
In the new business model of Innotec Tecnologie Innovative advanced by Baldassari there is maximum attention to one of the focal - and often underestimated - points in the field of equipment: the after-sales service, an activity that will be rethought and simplified, streamlining, where possible, some business processes.
"I am confident that I can also add my technical contribution to the new projects, enabling Innotec to offer itself not only as a machine manufacturer but also as a supplier of high value-added equipment", continues the new CEO. "Naturally, all this will be done with respect for the high technical profile and know-how that the company has been able to achieve over the years, characteristics enabling it to position itself at the top of its sector".
Another aspect that will characterize the new approach of Innotec, that since 2017 is part of AEB Group, a multinational company with a complete range of biotechnological solutions, equipment, filtration and detergents, is the expansion of its commercial horizon towards new markets: precisely because of the synergy with the sales organization of the head company AEB, Innotec is preparing to face a challenge that looks to the future: "Replacing preservatives with mechanical filtration, already used for example in milk, - explains Baldassari, - will certainly find favour with consumers, who are increasingly focused on healthy eating".
Finally, great commitment will be dedicated by the entire Innotec team to the completion and industrialization of research into new solutions for water treatment and recovery, solutions guaranteeing true and measurable sustainability.
Do you want to be always informed of all the news, initiatives and events of the Group? Subscribe now to our newsletter!