A complete range for the beverage, food and processing industries
We have always worked closely with the customer along the entire production chain. And we do this not only through our range of products and detergents, but also with specific equipment designed and manufactured to obtain the highest quality final product under the most hygienic conditions. Added to this is the support of our technicians, always ready to assist in order to guarantee a 360 degree service.
It all starts with the design
The advantage of being a producer and having a team of specialists in the wine, food and bottling sectors allows our Group to design plants of different sizes and in line with a customer's needs. Without forgetting there is the possibility of customization and adaptation to meet all production realities.
Customer service and constant innovation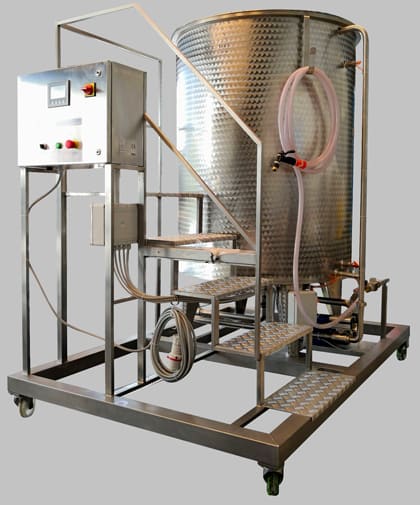 The creation of each piece of equipment is closely linked to the end user: new needs are born every day and solutions are promptly developed to respond to a constantly evolving market.
The customer service starts from the very first steps: from the identification of the most suitable unit or plant to its customization; from the supply of programs and spare parts to the fast and punctual response from our specialist team in order to ensure a very efficient after-sales service.
From the treatment to the sanitization of industrial areas, we always offer you the ad hoc plant.
Our range includes:
01

Equipment for dosing and rehydration of yeasts

02

Flotation equipment

03

Liquids and solubilization units

04

Equipment for the tartaric stabilization of wine

05

Machines for the handling of liquids

06

Conveyor belt lubrication systems

07

Tank cleaning, washing and sanitation systems

08

Water purification systems

09

Microfiltration equipment

10

Aging equipment

11

Analysis instruments and measurement devices
AEB ENGINEERING EQUIPMENT
AEB ENGINEERING is the division of the AEB Group specialized in the design and construction of plant and equipment aimed at satisfying any requirement during the entire production process: from grape harvesting to must clarification, from fermentation to tartaric stabilization, from filtration to aging, from sanitation to conveyor belt lubrication. The range is completed with equipment for dosing and rehydration of yeasts.
INNOTEC's range of equipment is testament to the companies know-how and experience in manufacturing and developing systems: at the heart of its business are manual and automated microfiltration systems for the wine and beverage industry. Each plant is exclusive, customised and designed according to each customer's needs. Optional highlights being the automated CIP systems, in-line dosing, oxygen and carbon dioxide stripping systems.