VINOBUONO 1 - VINOBUONO 2
Coadjuvants for a rational vinification
Vinobuono 1: we developed Vinobuono 1, containing the 37,5% of active selected yeasts: this means to grant a quick start and to maintain a good development, till the end of the alcoholic fermentation. Vinobuono 1 also contains the yeast food, indispensable to be added in order to ensure an optimal fermentation activity, so that the alcoholic fermentation represents the best opportunity to obtain a perfect wine. Vinobuono 2: to regulate the alcoholic fermentation, the must needs elements with a preservative character and regulators of the fermentation process, able to express the best of the desired qualities. Even the small wine-maker can use specific high technology products, that is micronized and hydrosoluble potassium caseinate together with activated bentonite: these components facilitate the development of aromas and smells of great relief in the wine and enable the obtainment of wines practically clarified, ready to be consumed, at the end of the fermentation.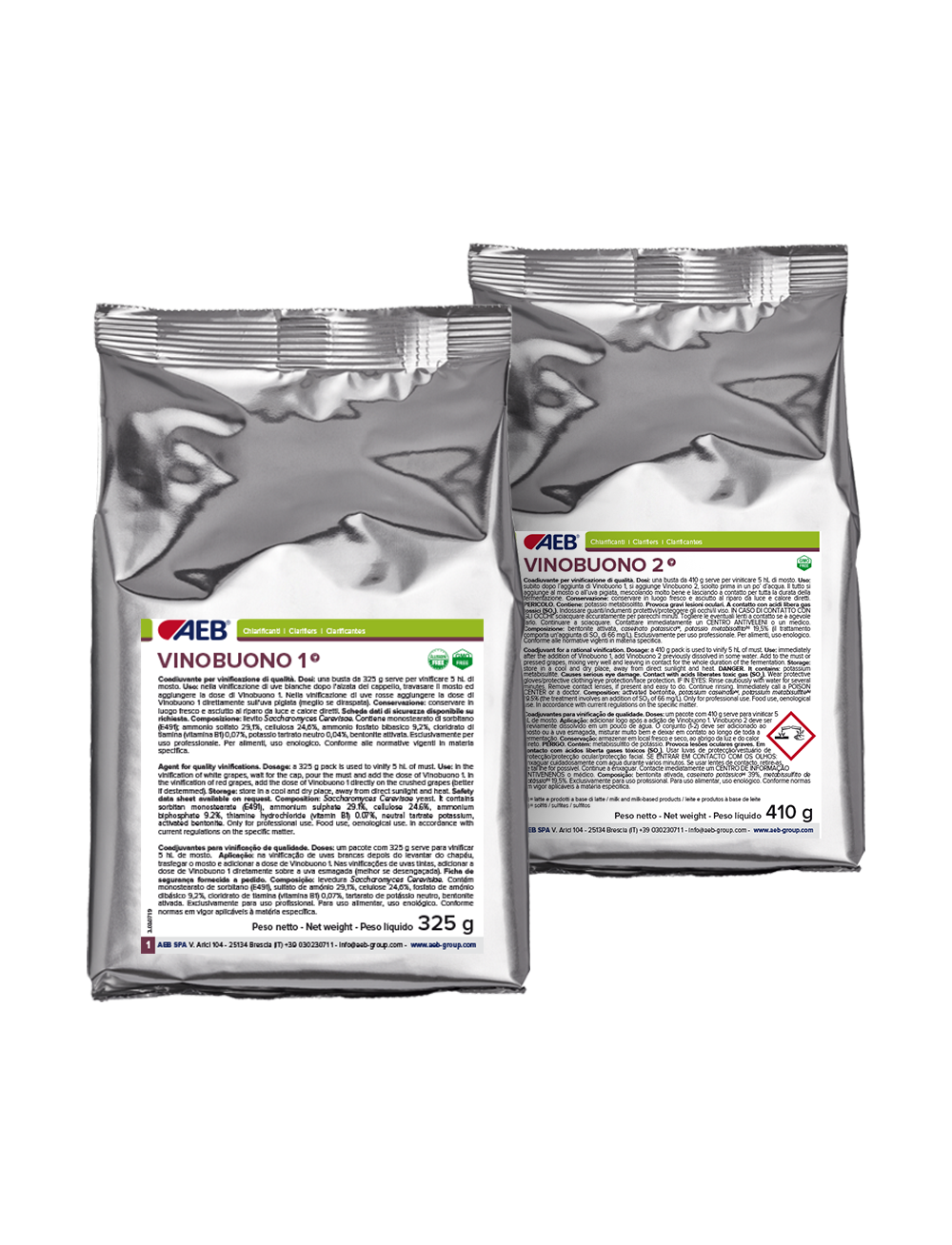 composition
Vinobuono 1 Saccharomyces Cerevisae yeast. It contains sorbitan monostearate (E491), ammonium sulfate, cellulose, dibasic ammonium phosphate, thiamine hydrochloride (vitamin B1), neutral tartrate potassium, activated bentonite. Vinobuono 2 activated bentonite, potassium caseinate, potassium metabisulfite.
packages
1 cartons containing: 20 envelopes (325 g net/each.) of Vinobuono 1 + 20 envelopes (410 g net/each.) of Vinobuono 2.
Do you want to be always informed of all the news, initiatives and events of the Group? Subscribe now to our newsletter!